Future of e-commerce business in Bangladesh: How to start when the post-COVID-19 lockdown is over
Make an e-commerce website for business (Starter guide)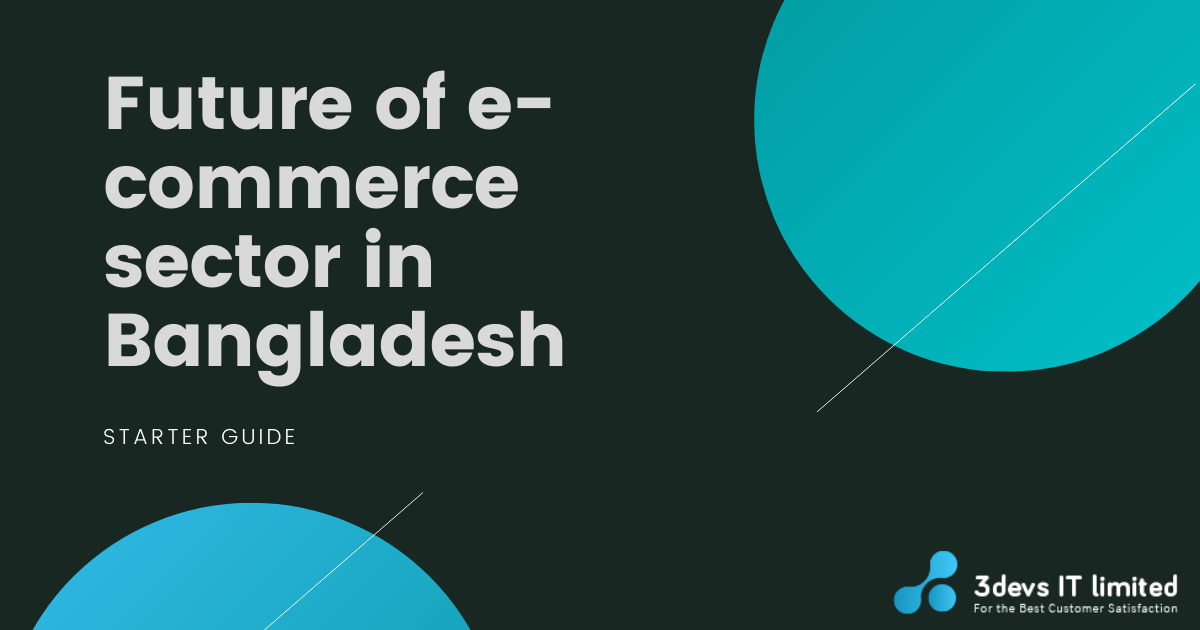 Bangladesh sees unprecedented growth in the e-commerce sector in the last few months during the coronavirus lockdown. March 25, when the Govt. of the People's Republic of Bangladesh imposed lockdown. Soon after we've seen a sudden surge of online shopping tendency among the people here.
The report says, a top management official of ACI Limited disclosed they've seen significant growth of online e-commerce product sales. The officials mentioned, on average their sales were TK.900 million worth of goods every month. But in March alone they sold TK.1.31 billion! The share of online e-commerce store trading increased from 1% to 8%
The stats really summaries the current growth and opportunity situation of the Bangladeshi e-commerce industry. And it's not hidden to anyone that there's no better time than this to start your own e-commerce business. 
Without taking much time from you let me share my quick and easy-to-follow guideline to start an e-commerce business now! Besides the business/marketing plan, delivery, return/refund policy-making, etc. the most important part is developing a solid e-commerce marketplace. This requires technology experts in your team or you can hire a software company as a vendor.
Developing an e-commerce website is not so easy for people who have very limited knowledge of web design & development. 
So the first thing you can do is search for a professional software development company in your region. 3DEVs IT Ltd. is serving software, web, and mobile apps development solutions since 2013. We've provided technology solutions to countries' top companies. Named a few: Brac limited, Nagad ltd., icddr,b, Pran-Rfl group, etc.
3 key things you consider most when developing an e-commerce website for business. 
1. Company background and clients 
Make sure you choose a reliable software company for your project. Check the company background, its products, and how many years they're in this business, which clients they served, etc. will help you find your suitable technology partner for developing e-commerce or any other tech projects.
2. Domain expertise in large scale e-commerce website design & development 
Any technology project development requires solid domain expertise. An experienced tech team can guide you from the very beginning of the project and delivers to your expectations. At 3DEVs, we've dynamic project managers and business consultants who can help you meet project outcomes.
3. and Budget 
Judging a tech project's budget is difficult for any non-techie entrepreneurs and business owners. Comparing one's budget with other companies are also difficult as the budget of a project will depend on many cases. The brand value of the company, the quality of product/services, after-sales-support, etc. 
Basically at 3DEVs, we offer two types of budgeting for new projects.
a) Project-based development: Fixed man-day is calculated and multiplied by the number of resources involved in projects.
b) Full-time dedicated development: This package is more favorable for enterprise development.
It is quite expectable now that the e-commerce sector of Bangladesh is ready to boom in growth and soon will become a money-making machine! If you choose a trusted web development partner, you can create a snowball effect on your e-commerce business. Good luck!